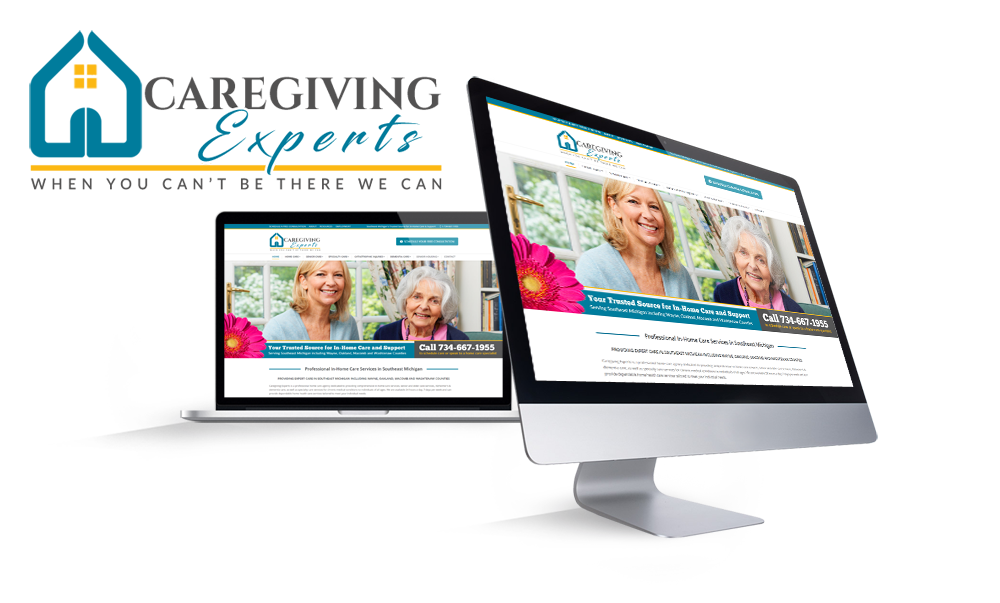 Caregiving Experts
Project Details: Website Development, Logo Design, Graphic Design, Copywriting, Software Integration, Back End Development, Content Management, Online Marketing, Search Engine Optimization, Local SEO, Video Production, Website Maintenance, Hosting
Caregiving Experts is a professional home care agency dedicated to providing comprehensive in-home care services, senior and elder care services, Alzheimer's & dementia care, as well as home health care services to residents of Wayne, Oakland, Macomb and Washtenaw counties as well as the Metro Detroit area. The client required a best-in-class website that would convey their mission along with a comprehensive digital marketing program that would enhance their online presence and drive geographically targeted traffic and leads to their home care business.
We started with defining the company's online marketing goals and developing a "digital blueprint" to act as a road map for their online success. The project included designing a new responsive website that properly displayed the company's home care services while conveying their mission of "providing quality home care to people of all ages".
Caregiving Experts contracted with FrontPage Interactive to design and develop a new website, corporate branding and online marketing strategy for their top-rated home care agency that would convey professionalism and allow visitors to gain knowledge about their professionalism, reputation and in-home care services offered.
Project requirements included logo design, corporate identity, marketing collateral, website development, graphic design, copywriting, backend programming, search engine optimization and local search marketing marketing. FrontPage Interactive was able to offer everything Caregiving Experts needed under one roof.
If you are considering a web design, web development or online marketing project, we would be happy to assist you in understanding the opportunities and challenges involved in achieving your marketing objectives.
Contact Us Today