Client Testimonials and Reviews
Are You Looking for the Best Digital Marketing Company for your project?
We've found that the best information usually comes from testimonials, review and ratings from the people who have already experienced the FrontPage Interactive difference.
That's why we're sharing these real-life testimonials from clients who have already worked with our talented group of highly trained professionals and have experienced first-hand what sets our company apart from all others.
At FrontPage Interactive we pride ourselves on our commitment to quality and ensuring the process and end result are second to none.
Here is what Clients are saying about FrontPage Interactive:

Chicago Divorce Directory
"Working with Al and his team was great. We knew from the beginning that our website project would be an ambitious undertaking, but they were able to seamlessly walk us through the process from start to finish. The entire team is extremely knowledgeable, experienced and very creative. If you need a web design or online marketing agency for your business or specialty project, stop your search and call Al today!"

Advocates for Independence
"FrontPage Interactive has been terrific. They were fast at developing our new web site. Although our site was published just a few months ago, we are already getting business from it. We are also already appearing on the first page of Google searches for some keywords. The results have happened faster than FrontPage said they would. I highly recommend FrontPage Interactive."

"I was referred to FrontPage Interactive from a friend of mine who is the founding partner at a prominent downtown Chicago law firm. Their attention to detail, exceptional professionalism and level of expertise is second to none. If you want the best website design and marketing for your law practice, reach out to these guys – I highly recommend Al and his team."

"If you need the best reach out to these guys!"

"Building my website with FrontPage Interactive was a pleasant experience. Al was responsive and helpful any time I had questions or needed support along the way. I have had several people mention how much better my website is than others in the same industry. Very professional and incredibly fast!"

"Al, I want to thank you for the comprehensive website that you put together for our firm. It is very professional and we like it very much. I also want to thank you for your rapid response to all of our questions and requirements. Once again, thank you for a job well done."

"Two years ago we were becoming disillusioned with FindLaw… they did very little to keep our website current and to ensure that we reached as many prospective clients as possible. We received a recommendation from a friend in a downtown Chicago law firm to contact FrontPage Interactive. They completely redeveloped and updated our website and constantly contact us regarding new opportunities to improve our site and to increase our new client lead generation Our firm is very grateful to Al and FrontPage for their hard work in support of our needs."

Ross D. Secler & Associates
"Wonderful experience with Al and the entire Frontpage team. They are professional, quick to respond to questions, and helped me create the perfect website for my business. Their continued security monitoring and updating is exactly the piece of mind I am looking for. I highly recommend!"
"FrontPage Interactive is the best! They developed our new website and created a detailed online marketing plan to fit our budget. I recommend these guys 1000% –  they literally put our firm on the map and now our phone is ringing off the hook!"
"Since FrontPage Interactive designed, developed, launched and began marketing our new website, our phone has not stopped ringing! The new website ranks very well on Google for all of our targeted keywords and is now the primary source of new business leads for our company. It has been a pleasure working with Al and the FrontPage team – they have turned our website into a lead generating machine!"

"We initially got in touch with FrontPage Interactive to help build our new website for our multi-office dental practice because they came well recommended from another business associate and they are a well-respected Chicago-area business. During our meeting with Al, he explained the importance of proper web development and search engine marketing for local businesses like ours.  We have experienced substantial growth in new patient inquiries and we couldn't be happier!"
"We had used Google Pay-Per-Click for our internet marketing effort for years. We saw very minimal traffic at a very high cost. We engaged FrontPage Interactive to design our new website and work on our SEO program and the results have been nothing short of astounding. Our traffic has grown by leaps and bounds as has our business. I can't recommend them highly enough, they are professional, thorough and they deliver results!"
"Al and his team at FrontPage Interactive helped me bring my businesses into the 21st century in terms of website design, SEO and understanding how important online exposure and search engine ranking is for my businesses. I view Al as a vital part of my management team. His expertise in matters of the Internet are second to none. I would encourage you have a dialogue with Al before selecting a partner to work with!"

"Having started a new consulting company I understood that prospective clients would want to see my web site. I built one by myself only to hear from colleagues it looked unprofessional. Upon a recommendation from a good friend, I found Al at FrontPage Interactive. He was great to work with and completely guided me through the process. Now my site is bringing me business without having to even network."

"Having worked with Al and the FrontPage Interactive team for the past few years I can say unequivocally that their internet knowledge, development skill set and SEO expertise has dramatically improved my website traffic and client conversion ratio. They provided me will full website development, deployment and ongoing on-page and off-page optimization. They have been spot on with their work product and support efforts, I highly recommend Al and his team!"

"I can not express how great Al at FrontPage Interactive is. He went above and beyond in providing an exquisite website for Black Diamond Charities, and is always willing to assist at any time when I am technologically challenged! I would recommend FrontPage Interactive in a heartbeat."
Digital Marketing Solutions for Any Business
FROM LOCAL BUSINESSES TO NATIONAL FRANCHISES, WE POSITION YOUR BRAND FOR ONLINE SUCCESS.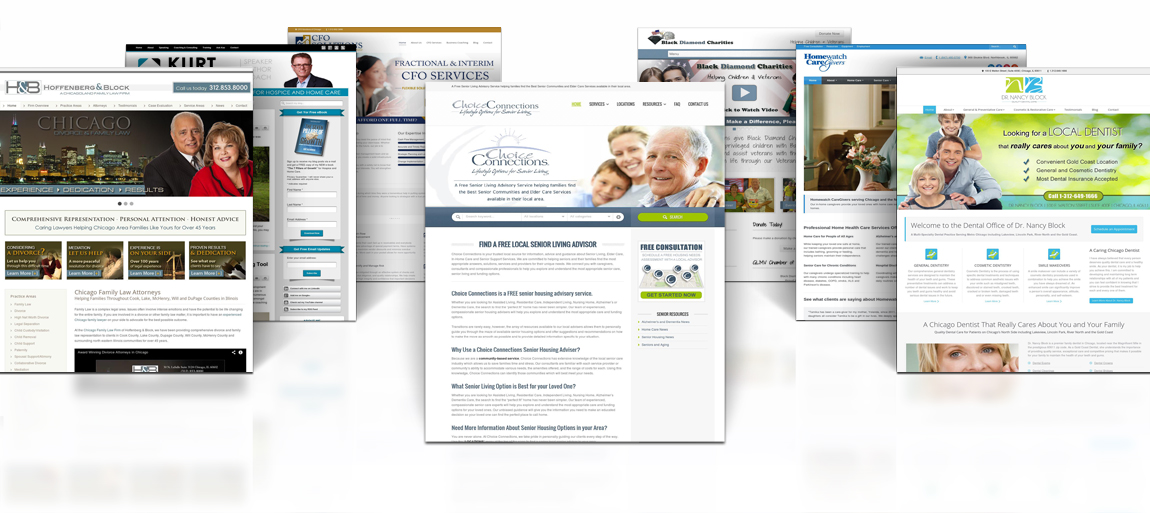 Most Businesses Fail to Reach Their Online Potential
Discover how we can help you achieve your online marketing goals