Website Design & Web Development
Website Design is a Critical First Step to Maximizing Online Success, But Where Do You Begin?
With so many options to consider, how do you know that you're making the right choice that is going to establish the best online presence for your organization.
Online success starts with a great website design and you should strive to find balance between creative design, site functionality, user experience and search engine optimization.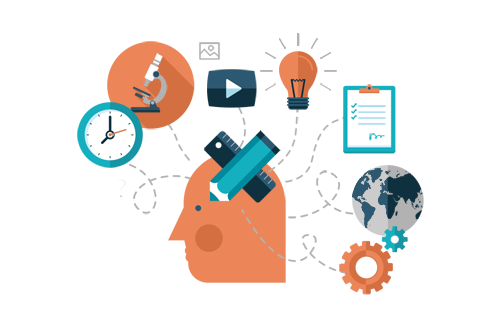 Planning
Successful Web Design Starts with Planning
Just like with any large scale project, our web design process begins with a discovery phase. Prior to creating the first design mock up, we'll closely examine your target market, existing website, content for the new site, marketing objectives and developmental requirements.
The website planning process consists of organizing all of your ideas, your objectives, and coming up with a development plan and timeline that will fulfill these requirements while remaining within budget.
The website architecture is created along with a sitemap, showing you all pages that need to be included in the design. Mock-ups are then created, which act as placeholders for various types of content, graphics, video and other features. This saves both designer and developer time, by creating a roadmap for the creation of your entire website. Design specifics are planned out such as colors and general aesthetics. Development items such as framework, programming languages, and the type of Content Management System (CMS) that will be used are also finalized.
Design and Development
The User Experience is Key
Based on the mock-ups created during the planning phase, our designers begin the process of creating unique interfaces that not only support your branding efforts, but are also effective at engaging your online visitors and enhancing your online exposure. Our talented team does not look at your project solely from a deign or development perspective. They are trained to look at each client's project from a business and lead generation perspective, where ROI is a key metric.
Once designs are finalized for the website's front-end interface, our development team goes to work. They code the website page, then depending on the scope of the project, may add a Content Management System.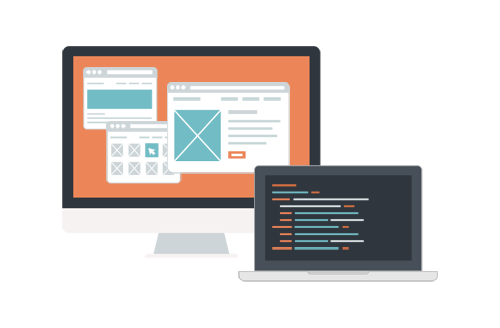 Responsive Website Design
Desktop.Tablet.Mobile – One Site for Every User
Responsive web design is the process of building websites that adapt and resize automatically to smart phones, tablets and desktops.
In case you haven't realized it, mobile web browsing has now surpassed desktop browsing in popularity. Responsive web design has removed the need for a mobile website because responsive sites have the ability to scale up and down, regardless of device, including those that have yet to be invented. The industry has adapted, and adapted well. Google has taken steps from encouraging businesses to design responsive websites to downright punishing those that don't.
WordPress Website Development
Scalable . Customizable . Dynamic
WordPress is an open source content management system (CMS) that is used by millions of website owners and developers. WordPress is our favorite web design platform because it's scalable, 100% customizable, and easy for our clients to dynamically update.
WordPress is the most widely used content management system on the Internet. With an extremely easy-to-manage administrative control panel, a great set of out-of-the-box features and a variety of widgets, themes and plugins available, WordPress is a great platform for blogs, professional websites and multi-site networks.
"We knew that our project was going to be fairly complex. Developing a new website network for our growing senior living advisor network was a big undertaking. FrontPage Interactive was great to work with. They created a complete development and marketing plan for our project and made suggestions that we never even thought of. We could not be happier with the level of service and expertise delivered by their entire team."
"FrontPage Interactive has been really great to work with. They successfully developed a comprehensive website network for our expanding organization and have aggressively marketed our hospice, palliative care, home care and counseling services in the geographic locations where we provide care. They are very professional and their support is second to none."
"Working with Al and his team was great. We knew from the beginning that our website project would be an ambitious undertaking, but they were able to seamlessly walk us through the process from start to finish. The entire team is extremely knowledgeable, experienced and very creative. If you need a web design or online marketing agency for your business or specialty project, stop your search and call Al today!"
"FrontPage Interactive has been terrific. They were fast at developing our new web site. Although our site was published just a few months ago, we are already getting business from it. We are also already appearing on the first page of Google searches for some keywords. The results have happened faster than FrontPage said they would. I highly recommend FrontPage Interactive."
"I was referred to FrontPage Interactive from a friend of mine who is the founding partner at a prominent downtown Chicago law firm. Their attention to detail, exceptional professionalism and level of expertise is second to none. If you want the best website design and marketing for your law practice, reach out to these guys – I highly recommend Al and his team."
"If you need the best reach out to these guys!"
"Building my website with FrontPage Interactive was a pleasant experience. Al was responsive and helpful any time I had questions or needed support along the way. I have had several people mention how much better my website is than others in the same industry. Very professional and incredibly fast!"
"Al, I want to thank you for the comprehensive website that you put together for our firm. It is very professional and we like it very much. I also want to thank you for your rapid response to all of our questions and requirements. Once again, thank you for a job well done."
"Two years ago we were becoming disillusioned with FindLaw… they did very little to keep our website current and to ensure that we reached as many prospective clients as possible. We received a recommendation from a friend in a downtown Chicago law firm to contact FrontPage Interactive. They completely redeveloped and updated our website and constantly contact us regarding new opportunities to improve our site and to increase our new client lead generation Our firm is very grateful to Al and FrontPage for their hard work in support of our needs."
"Wonderful experience with Al and the entire Frontpage team. They are professional, quick to respond to questions, and helped me create the perfect website for my business. Their continued security monitoring and updating is exactly the piece of mind I am looking for. I highly recommend!"
"FrontPage Interactive is the best! They developed our new website and created a detailed online marketing plan to fit our budget. I recommend these guys 1000% –  they literally put our firm on the map and now our phone is ringing off the hook!"
"Since FrontPage Interactive designed, developed, launched and began marketing our new website, our phone has not stopped ringing! The new website ranks very well on Google for all of our targeted keywords and is now the primary source of new business leads for our company. It has been a pleasure working with Al and the FrontPage team – they have turned our website into a lead generating machine!"
"We initially got in touch with FrontPage Interactive to help build our new website for our multi-office dental practice because they came well recommended from another business associate and they are a well-respected Chicago-area business. During our meeting with Al, he explained the importance of proper web development and search engine marketing for local businesses like ours.  We have experienced substantial growth in new patient inquiries and we couldn't be happier!"
"Two years ago we were becoming disillusioned with FindLaw in its management of our website. FindLaw developed our website, but did very little in subsequent years to keep our website current and to ensure that the website reached as many prospective clients as possible. Two years ago, we were lucky enough to receive a recommendation from a friend in a downtown firm to contact FrontPage Interactive. She told us that they had developed their website and how they were constantly working to keep their site updated and relevant with the changing laws and times. Their firm receives an amazing number of contacts from the public.
We contacted Al and met with him to discuss what our needs and expectations were and what services his firm provides to their clients. FrontPage completely redeveloped and updated our website and constantly contacts us regarding new opportunities to improve our site and to increase our connections through organic search engine optimization and social media, something FindLaw never suggested. Our prospective client contacts have increased significantly. Our firm is very grateful to Al and FrontPage for their hard work in support of our needs."
"We had used Google Pay-Per-Click for our internet marketing effort for years. We saw very minimal traffic at a very high cost. We engaged FrontPage Interactive to design our new website and work on our SEO program and the results have been nothing short of astounding. Our traffic has grown by leaps and bounds as has our business. I can't recommend them highly enough, they are professional, thorough and they deliver results!"
"Al and his team at FrontPage Interactive helped me bring my businesses into the 21st century in terms of website design, SEO and understanding how important online exposure and search engine ranking is for my businesses. I view Al as a vital part of my management team. His expertise in matters of the Internet are second to none. I would encourage you have a dialogue with Al before selecting a partner to work with!"
"Having started a new consulting company I understood that prospective clients would want to see my web site. I built one by myself only to hear from colleagues it looked unprofessional. Upon a recommendation from a good friend, I found Al at FrontPage Interactive. He was great to work with and completely guided me through the process. Now my site is bringing me business without having to even network."
"Having worked with Al and the FrontPage Interactive team for the past few years I can say unequivocally that their internet knowledge, development skill set and SEO expertise has dramatically improved my website traffic and client conversion ratio. They provided me will full website development, deployment and ongoing on-page and off-page optimization. They have been spot on with their work product and support efforts, I highly recommend Al and his team!"
"I can not express how great Al at FrontPage Interactive is. He went above and beyond in providing an exquisite website for Black Diamond Charities, and is always willing to assist at any time when I am technologically challenged! I would recommend FrontPage Interactive in a heartbeat."
Digital Marketing Solutions for Any Business
FROM LOCAL BUSINESSES TO NATIONAL FRANCHISES, WE POSITION YOUR BRAND FOR ONLINE SUCCESS.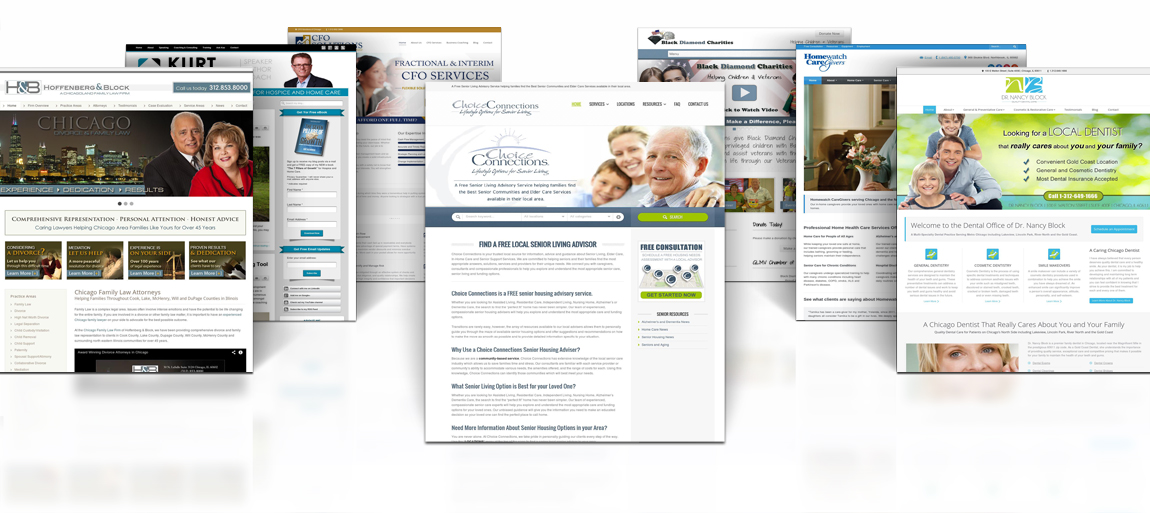 Most Businesses Fail to Reach Their Online Potential
Discover how we can help you achieve your online marketing goals