Creating a Better Small Business Website
When developing a new business website, quality content can be one of the most powerful marketing tools you can use. When written correctly, it has the power to draw in millions of new visitors, increase conversions, build up brand image and develop strong relationships with both new and existing customers.
However, it's not always easy to get it right. If you're wondering how to create the most effective copy for your small business website, below you'll discover three tips that will help.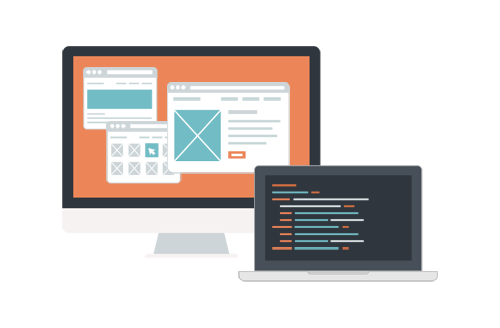 1.Start with the most important pieces of information first
The thing many small businesses forget, is that your website has just a few seconds to grab the visitor's attention. It isn't enough to have an eye-catching design; you also need to have captivating copy. It's important to open the page with key pieces of useful information. For most businesses, this means focus on the pains, wants, and needs of your target audience. Make them want to keep reading to the point where they want to find out more about your products or services.
2. Always split the content up
It's one of the simplest tips to follow, yet one that so many businesses forget. Always make sure the content is split into sections, with ideally no more than 3-5 sentences per paragraph. Nobody wants to read long paragraphs of text.
You can split the content up in a number of ways, with subheadings and bullet points being the most favorable.
3. Avoid keyword stuffing
Back in the day when search engine optimization (SEO) was first introduced, it was encouraged to use certain keywords as much possible in your website copy. That was how search engines determined how highly a site should rank in results. This, unfortunately, led to a high level of sites offering almost incomprehensible, junk content. This is called keyword-stuffing and these days, sites are penalized if they use this practice.
Your focus should always be on creating informative, useful content that's easy to read. Don't focus solely on specific keywords. There are tools out there that can help such as keyword trackers, to ensure you're not overdoing it.
4. Don't forget to the call-to-action
Every page on your site should have a call-to-action telling visitors what you want them to do next. Calls-to-action have been a primary part of marketing for as long as anyone can remember. Contrary to popular belief, they're even more important for digital marketing. This is because the digital space is filled with competition and other distractions that can easily take a consumer's attention off of your business.
Writing effective website copy is extremely important; yet, it's not as difficult as many businesses make it out to be. Some of them write too much about themselves and leave out the benefits to their target audience. Others create long, boring, ill-formatted content that simply turns visitors off.  Others skimp on the content all together and suffer due to a lack of traffic and conversions.
Content will forever be a critical piece of having a highly-effective website. Having a beautiful design is good, but without the right content, it's not going to do much to increase sales and profits.