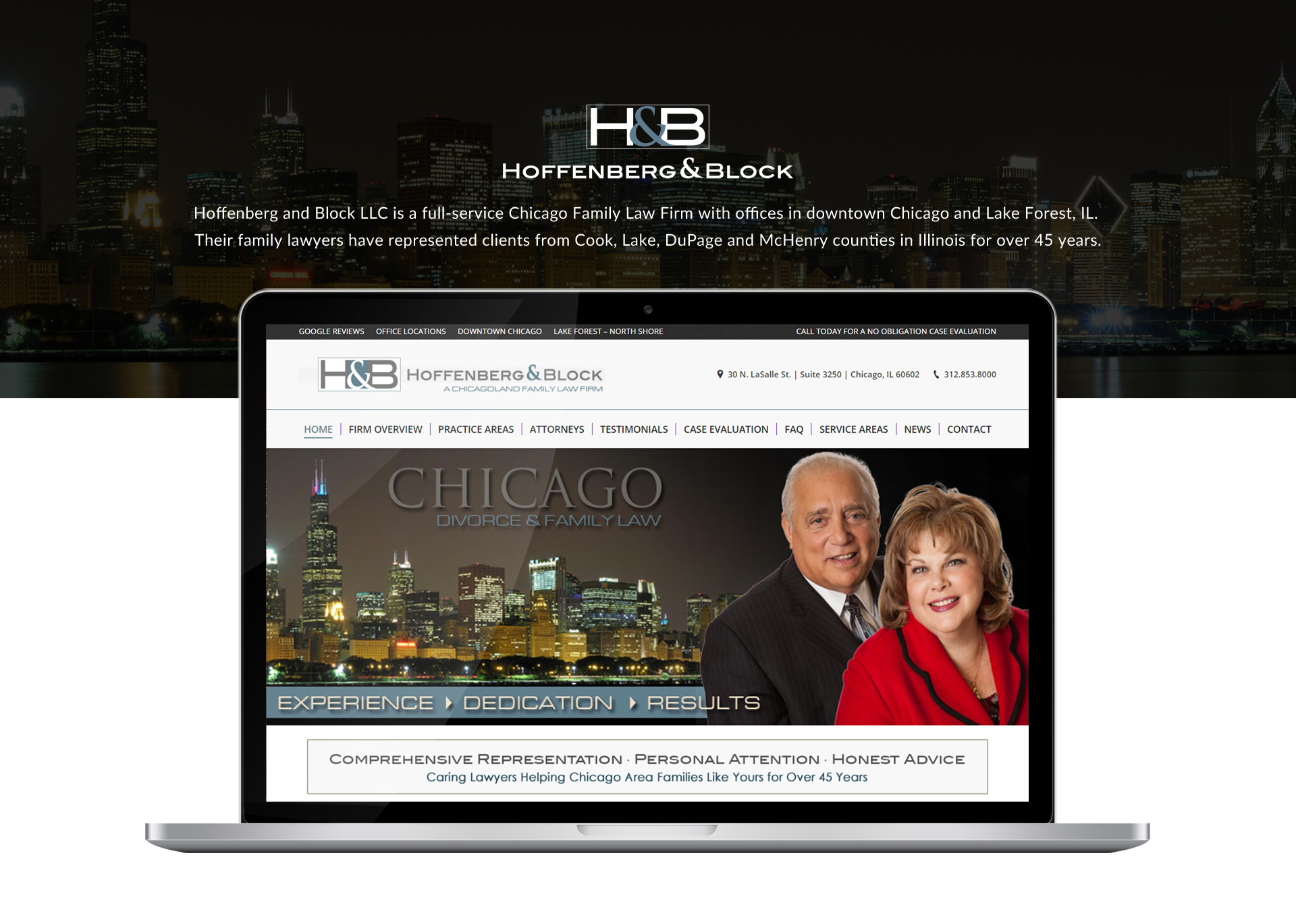 DIGITAL MARKETING FOR FAMILY LAW FIRMS
Leveraging Search Engine Optimization Strategies to Improve Lead Generation for your Law Firm.
After merging their firms several years ago, Chicago Divorce and Family Law Attorneys, Alan D. Hoffenberg and Gloria E. Block, had some decisions to make with respect to the marketing strategy for their new law firm, Hoffenberg & Block, moving forward.
Ms. Block had maintained a website with mega-provider, Find Law, for her previous firm, but was extremely dissatisfied with the results and was not at all interested in continuing with them. Mr. Hoffenberg was skeptical of the entire "online marketing" idea due some previous experiences that were less than successful for him.
After some research, and a solid recommendation from a local colleague, they reached out to FrontPage Interactive and shared their questions, concerns and requirements. After their initial consultation they quickly realized that they needed to establish a singular online presence that would convey professionalism, drive targeted website traffic and propel their firm to the pinnacle of Chicago Divorce and Family Law firms.
Eager to get a conversion-optimized website as well as a Local and Organic Search Engine Optimization strategy in place that would provide valuable new case leads, Hoffenberg & Block began working with FrontPage Interactive in August 2012.
Even though attorneys Alan Hoffenberg and Gloria Block had collectively been practicing Divorce and Family Law for more that 60+ years, their project was looked at as a "start-up" law firm. FrontPage Interactive began the process by defining the firm's online marketing goals, geographic service areas, ideal client persona and content strategy that would appeal to their target market. In essence, FrontPage Interactive developed a "digital blueprint" to act as a road map for their online success. The project included designing a new responsive website, corporate branding and online marketing strategy for their law firm that would convey professionalism and allow visitors to gain knowledge about their attorneys, reputation and services offered. This provided the firm with a brand-new, conversion-focused website that highlighted the attorneys' advanced experience and winning track record.
PROJECT REQUIREMENTS
Website Development, Logo Design, Graphic Design, Copywriting, Software Integration, Back End Development, Content Management, Online Marketing, Search Engine Optimization, Local SEO, Video SEO, Website Maintenance, Content Marketing & Syndication, Website Hosting
FrontPage Interactive was able to offer everything Hoffenberg & Block needed under one roof.
"FrontPage Interactive is the best! They developed our new website and created a detailed online marketing plan to fit our budget. I recommend these guys 1000% –  they literally put our firm on the map and now our phone is ringing off the hook!"