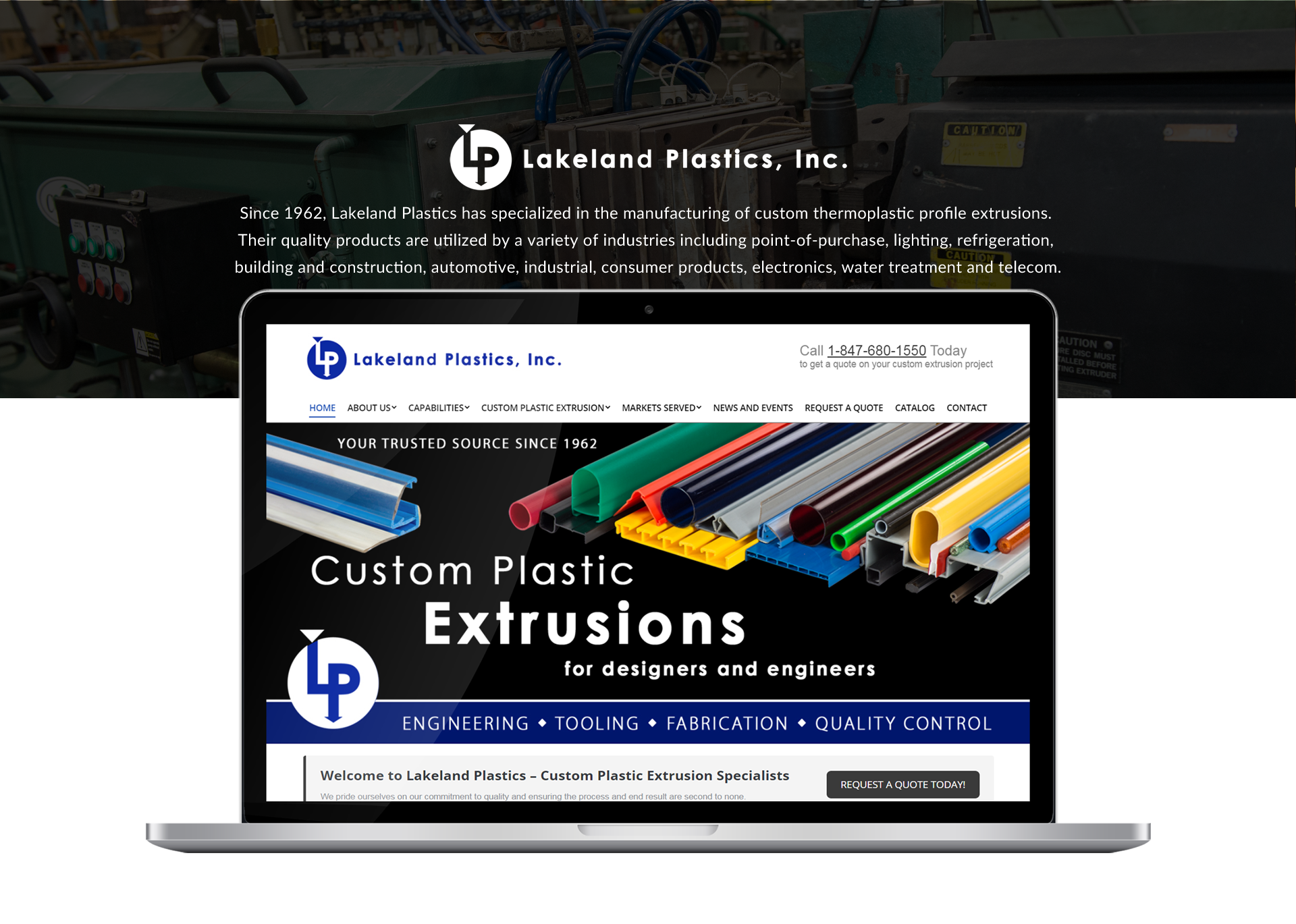 DIGITAL MARKETING FOR MANUFACTURERS AND INDUSTRY
Leveraging the Internet and Search Engine Optimization to Improve New Client Lead Generation for your Business.
Since 1962, Lakeland Plastics has specialized in the manufacturing of custom thermoplastic profile extrusions. Their quality products are utilized by a variety of industries including point-of-purchase, lighting, refrigeration, building and construction, automotive, industrial, consumer products, electronics, water treatment and telecom.
In recent years the company had struggled to attract new client leads. In an effort to enhance their online exposure, they tried Google Ads. The general consensus was that they saw very little traffic at a very high cost.
The needed a proven strategy to drive targeted website traffic and new client leads. In order to accomplish this they needed a knowledgeable marketing partner that had the experience and expertise to market their top-rated plastic extrusion company to a national audience.
Lakeland Plastics engaged FrontPage Interactive to develop a new website and online marketing strategy for their custom plastic extrusion business that would convey professionalism and allow prospective clients to gain knowledge about their history, industry reputation, quality products and exceptional level of service. "The results have been nothing short of astounding. Our traffic has grown by leaps and bounds as has our business." said a company spokesperson.
PROJECT REQUIREMENTS
Responsive WordPress Website Development, Consulting Services, Graphic Design, Copywriting, Content Optimization, Software Integration, Back End Development, Content Management, Online Marketing, Search Engine Optimization, Local SEO, Website Maintenance, Content Marketing & Syndication.
FrontPage Interactive was able to offer everything Lakeland Plastics needed under one roof.
"We had used Google Pay-Per-Click for our internet marketing effort for years. We saw very minimal traffic at a very high cost. We engaged FrontPage Interactive to design our new website and work on our SEO program and the results have been nothing short of astounding. Our traffic has grown by leaps and bounds as has our business. I can't recommend them highly enough, they are professional, thorough and they deliver results!"