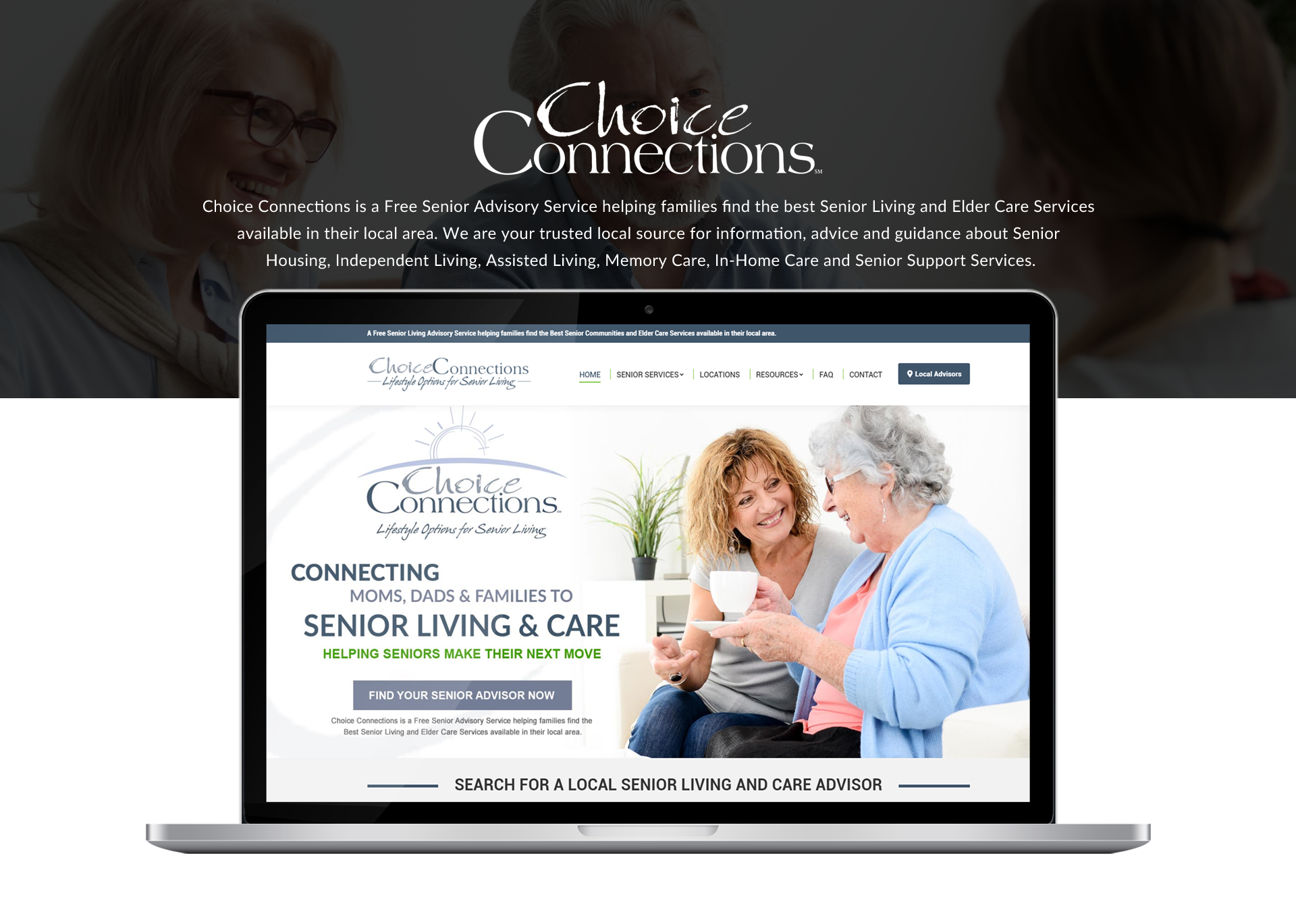 SENIOR LIVING AND ELDER CARE ADVISOR NETWORK
CHOICE CONNECTIONS
As their regional network of Senior Living Advisors began to expand to a national audience, Choice Connections had some decisions to make. They could keep their "old school", ineffective single location pages for their office owners, or they could step up and finally take the proper approach and develop a national network of marketing websites for their dedicated Senior Living and Care Advisors.
In order to accomplish this they needed a national marketing partner that had the experience and expertise to create a web development and marketing plan to successfully enhance online exposure, drive targeted website traffic and improve new client lead generation for their individual offices nationwide.
Choice Connections is a FREE senior housing advisory service that helps family members and individuals navigate through the various options available in the senior housing and elder care market. Additionally, Choice Connections offers a unique senior housing business opportunity in the booming aging market.
Choice Connections approached FrontPage Interactive to develop a completely new web presence for the company as well as individual marketing websites for each of their licensed service providers. These new websites allow visitors to gain knowledge about the services offered by local providers, share local news and events, search office locations via an interactive map interface and encourages visitors to register for a free consultation session to discuss available senior housing options in each local market.
PROJECT REQUIREMENTS
Responsive WordPress Multisite Network Development, Consulting Services, Graphic Design, Copywriting, Content Optimization, Software Integration, Back End Development, Content Management, Online Marketing, Search Engine Optimization, Local SEO, Video SEO, Website Maintenance, Content Marketing & Syndication, Website Hosting
FrontPage Interactive was able to offer everything Alliance Hospice needed under one roof.
"We knew that our project was going to be fairly complex. Developing a new website network for our growing senior living advisor network was a big undertaking. FrontPage Interactive was great to work with. They created a complete development and marketing plan for our project and made suggestions that we never even thought of. We could not be happier with the level of service and expertise delivered by their entire team."