Franchise Marketing Expert | Website Marketing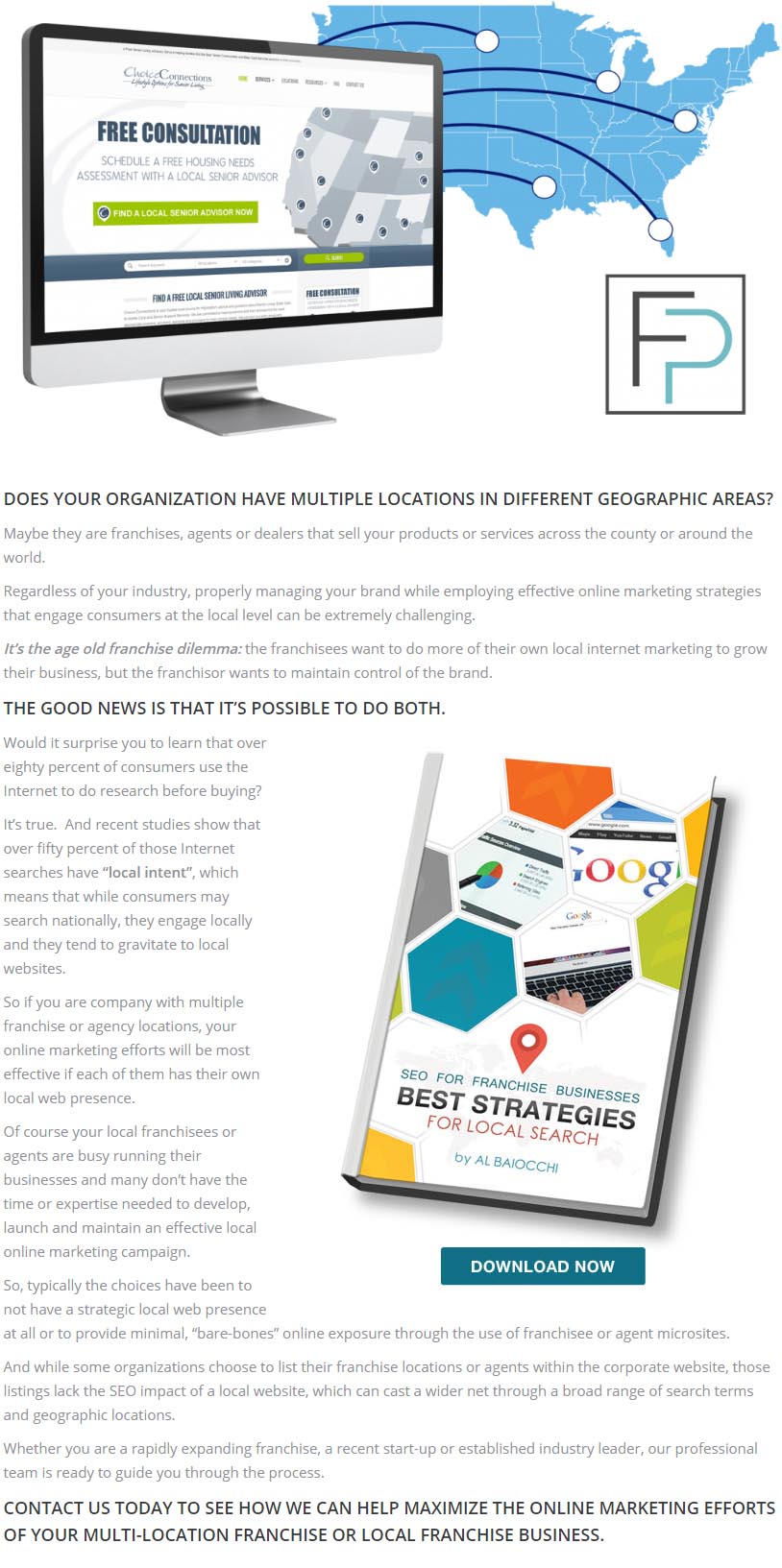 Most franchisees need qualified leads more than anything else, and the best way to generate leads (not referrals) is through a local website for each franchise location that is optimized for search in the geographic area where they conduct business. Don't panic — there are several ways for franchisors to offer, set up and manage brand compliant local marketing websites for franchisees. The key is to make sure the sites have as much locally relevant, unique content as possible and have clear and compelling calls-to-action, or else it will be an uphill battle to rank in search, drive targeted traffic and enhance lead generation.
In many cases, the compliance policies in your Franchise Disclosure Document related to Internet marketing and local search are probably outdated, and chances are, several franchisees within your specific organization are in breach.
Does the franchisor address local websites and social media adequately to give their franchisees a fighting chance of succeeding online?
Does the franchisor offer guidelines, best practices, and "how-to" examples that would be beneficial to the online marketing efforts of their franchisees?
Franchisors really need to rethink their marketing policies and determine what they can comfortably allow franchisees to do online, and instead of restricting control, think of how you can provide guidelines and strategies, and put monitoring tools in place to enforce compliance. When franchisees are given a clear strategy with actionable guidelines that produce real results, the number of compliance issues will go down dramatically and the moral of the franchisee network will increase exponentially.
Due to the "old school" thought process of many franchisors, the online marketing needs of the local franchisees oftentimes are overlooked or gloss over. In many cases franchisees believe that they don't have the power to execute a local marketing campaign, when in reality a franchisor may simply not have a franchise marketing system in place to empower franchisees that will still provide the franchisor with sufficient oversight. While franchisees should always endeavor to receive approval from the franchisor before moving forward with a local online marketing plan, they can still identify online marketing franchise opportunities and present them to the franchisor.
Building and maintaining a properly developed website for your local franchise business is a critical component to establishing an online presence and should be your primary area of focus as you begin your local online marketing journey.
While it is important how your website looks, it is even more important how it works. The objective is not to "look cool", but rather to allow people looking for your type of goods or services, your prospective customers and clients, to easily find you and learn something about your business and how you can help them.
To better understand the best path to a successful local franchise marketing strategy, check out our most recent franchise marketing article: SEO for Franchise Businesses – What is the Best Strategy for Local Search? . The article explores how multi-unit enterprises and franchises can work together to develop a strong local online marketing program and narrow the widening gap between corporate control and the local franchise owner's need for lead generation and business growth.